Water Features
in Boonton Township, NJ
Kohut & Son Landscaping also installs, repairs, and replaces water features for homes and businesses in Boonton Township and the surrounding areas.
Koi Ponds
We install koi ponds of any custom size and depth. If you've always wanted a man-made pond with fish in your yard or as part of your commercial landscaping design, Kohut & Son Landscaping can make it a reality. Koi ponds can be a small feature that is a part of your garden, or a large space in your backyard. Every design is built with decorative rocks and can also include waterfalls. From simple round designs to custom shapes, our landscapers will make the pond truly your own. The colorful fish combined with our expert hardscape masonry creates a landscaping element sure to add serenity and beauty to any property.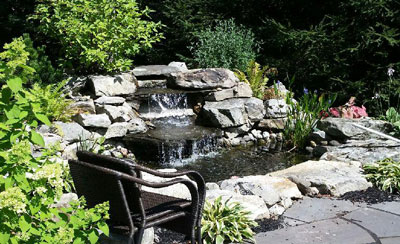 Waterfalls
Waterfalls are also a type of water feature we can create, modify, or install in any type of residential or commercial property. Waterfalls can be freestanding or created as part of a koi pond, fountain, or other landscaping element. From a small trickling waterfall to a large design that covers an entire wall, or a prominent water garden feature, our landscapers have the equipment and expertise to meet your needs.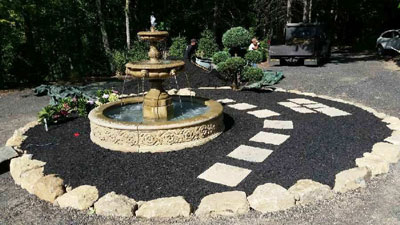 Fountains
Kohut & Son Landscaping also installs fountains for residential and commercial properties. Our experienced landscapers can create a small stone fountain, wall fountain, water garden, or backyard fountain. From a small, simple design to an elaborate one like those you throw coins into, we will build the fountain you've always wanted.